​
​
Redragon Mouse - M601 Centrophorus
A professional gaming mouse with 8 piece weight tuning, 6 programmable buttons, Red backlighting, gold-plated USB cable and quick DPI selection (1000-2000)
Contents
ReDragon M601 Centrophorus Mouse
Tuning weights
Software disc (optional)
User Manual
Warranty card
Intro
When it comes to PC gaming mice you will always hear about Corsair, Razor, SteelSeries and other well reputable companies. If you have looked for gaming mice from these brands, you may have noticed that they are quite pricey ranging from $50 dollars and up. They promise better accuracy, amazing comfort, cool LED lights, and many side buttons as well as DPI customizations, in order to get you hooked onto their product. Many of us out there and the PC gaming community, don't have a lot of money to spend on mice like that, that's where RedRagon comes.
You may ask yourself what is a red dragon or what kind of gaming peripherals they offer. As a company REDRAGON was started in 2012 and they manufacture hardware for gamers, but with one exception they produce inexpensive gaming gear. Dealing with this type of hardware most important factor is quality control, more specifically the quality of the assembly. After checking lots of positive customer review, I was keen to try their latest and most affordable option RedRagon M601 Centrophorus, which is currently number one selling gaming mouse on amazon. Having owned number of different expensive mice I have learned that, in most cases people pay for the brand name and in the reality they don't get what they really want. You should never judge product solely on its brand name or price, because if you do so you might lose chance to experience CENTROPHORUS – A quality gaming mouse, which is engineered for fast-twitch gaming. That's being said , let's move straight on to design and build quality.
ReDragon M601 Centrophorus – Design and Build Quality
First thing that you are going to notice is a nice packaging, with cool red and black accents that reflects brand color. I am quite impressed with the design, how informative the packaging is. From an average user point I can tell that after you get this mouse you really don't need to read any review, or documentation because all the features is included on the cover. Once you open the box you get instruction manual, mouse itself and the warranty card. One thing that I really like about this product is that beside the price point, it comes with 18 month (year and a half) warranty which is great if you have any problems out of the box, other than that it is going to work for years and deliver maximum performance. Now let's move straight to the mouse and see what RedRagon M601 Centrophorus really got.
The build quality of RedRagon M601 certainly does not match its low price, as it feels extremely comfortable and solid. The body is made of plastic and the material is very similar to Old Logitech G5 which I had couple of years ago. The black texture feels comfortable after hours of intense gameplay, and it doesn't seem to be a magnet for dirt and oils. The buttons are well placed and easy to reach, they fit my hand size just perfectly and take just right amount of pressure to actuate.

There are two side buttons on the left, which are positioned in the right spot as they provide extremely comfortable grip along with grainy plastic texture. This side buttons can be programmed individually for MMO and FPS games using special software, which you can download from their official site.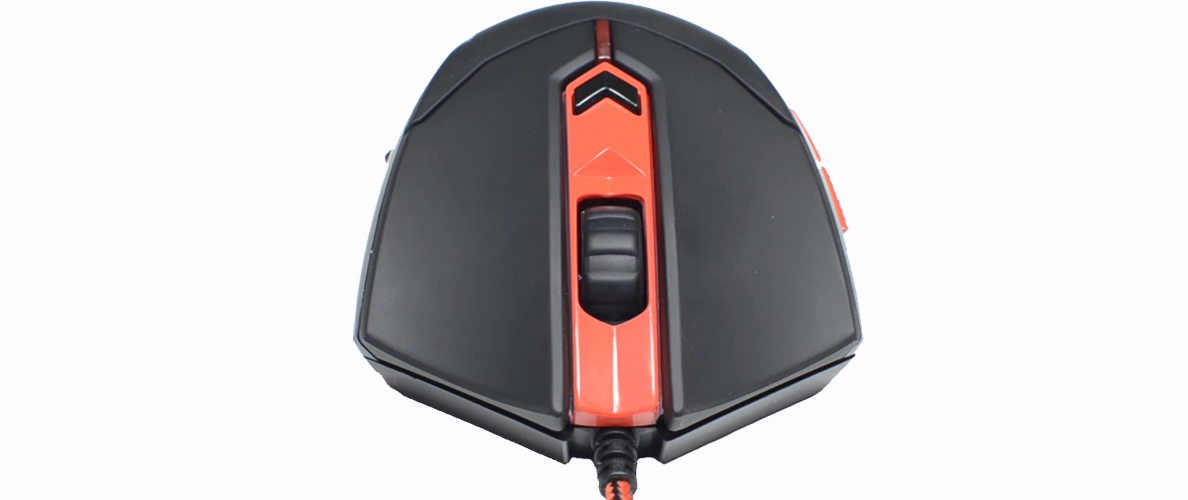 The DPI switch is placed beneath the scroll wheel, which by default is toggles for the 5 DPI modes. The primary left and right buttons are slightly moved from the body to achieve nice mouse clicking experience. The red backlighting illuminates logo, and the red accents on the sides which is a nice add-on for such an inexpensive gaming mouse .The scroll wheel has a rubber coating and provides right amount of resistance for accurate and smooth scrolling, but there is one flaw, you can't do side scrolling which I personally love for web browsing.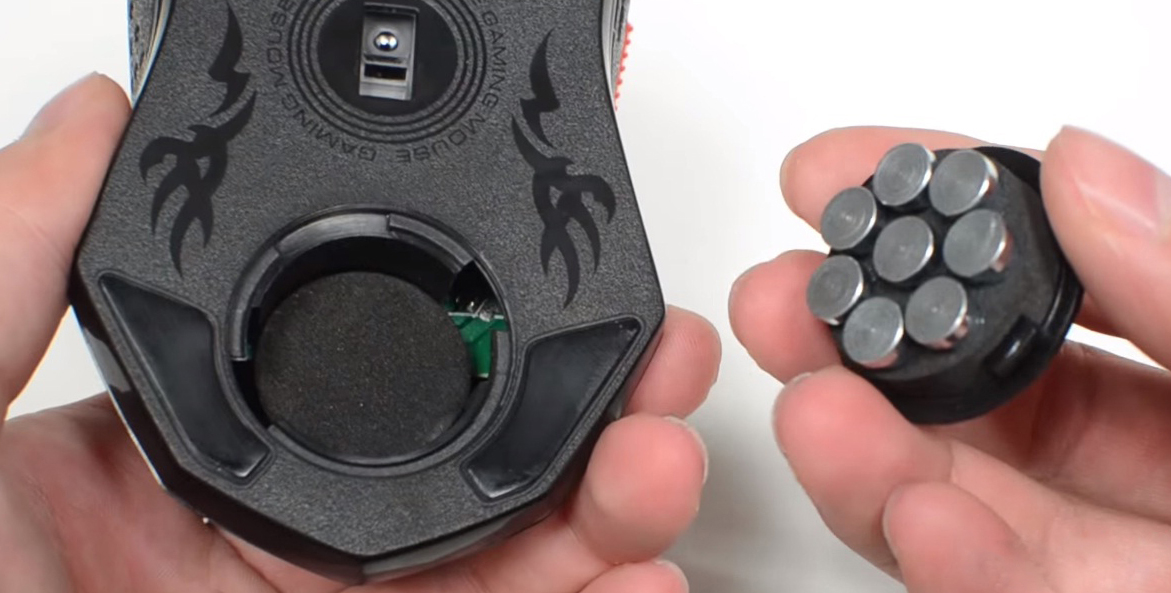 The bottom side of RedRagon M601 is also made of plastic, but this time it's more kind of robust then upper side. There are 4 Teflon pads each 3mm thick to provide smooth tracking, laser sensor and the adjustable weight system. To be honest the last feature is my favorite, and one that makes this mouse stand out from the competition in the category, because lesser expensive ones don't have weight adjusting feature in their arsenal. The weight plug is removed by rotating it slightly at tapping it out. Inside the mechanism you get 8 individual metal slugs each weighing 2.4 grams that can be removed and adjusted to your personal preference. This feature allows gamers to shave off some extra weight from 140 grams down to approximately 120 grams. Also keep in mind the weight adjusting system also weighs around 6 to 7 grams, so if you want something that is supper light, just remove the weight plug completely.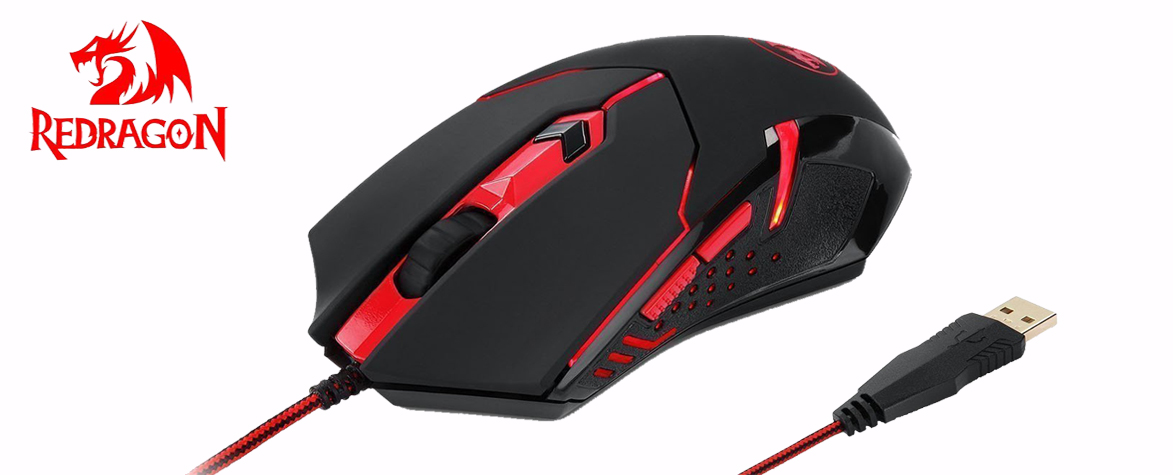 There is a flexible and the same time very durable, high-strength fiber wire 1.8m braided cable, with a red and black accents. The cable includes gold-plated USB connector and Velcro strap to keep things nice and clean for laptop use.
The overall structure and the design of RedRagon m601 Centrophorus feels like an ambidextrous mouse, with its V-shape like a ROCCAT KOVA, but here we got only two side buttons on the left, that's why this is not a fully ambidextrous gaming mouse. Other than that, mice is really comfortable, perfect for medium size hands and for gamers who prefer fingertip grip.
ReDragon M601 Centrophorus – Features and Specifications
Features
DPI adjustment from 1000-2000
Braided fiber cable
6 Buttons, 2 programmable side buttons
5 customised profiles
Red backlighting
Weight adjustment
Anti-skid scroll wheel
Gold-plated USB Connector
Specifications
Chip- A 3050
Sensor – Optical
Switch Life – 5 million clicks
USB – 1.1 full speed
Max acceleration – 15G
Max scan Freq – 4000FPS
Compatible with Windows, Mac and Linux
The ReDragon M601 Centrophorus is ready to work straight out the box, but with limited features. In order to fully customize your mice and enable all the customizability sweets, you have to install the software driver. The driver is pretty comprehensive with easy to understand interface. It allows users to assign new macros, have a full control over the DPI settings, adjust lighting effect like flashing backlighting or breathing intensity. Inside the software, gamers can also adjust the pointer speed, mouse acceleration - max 15G, polling rate and etc. all this features can be stored inside the software using 5 different profiles for individual gaming style. In most cases the software bundle that comes with mice is complex and requires some extra guides to operate, but here it is very lightweight only 40mb's and easy to understand. Only drawback is, not included "double-click" option as a mouse button selection function, but you can bypass this option by assigning new macro for side buttons. Other than that, software is great and very intuitive.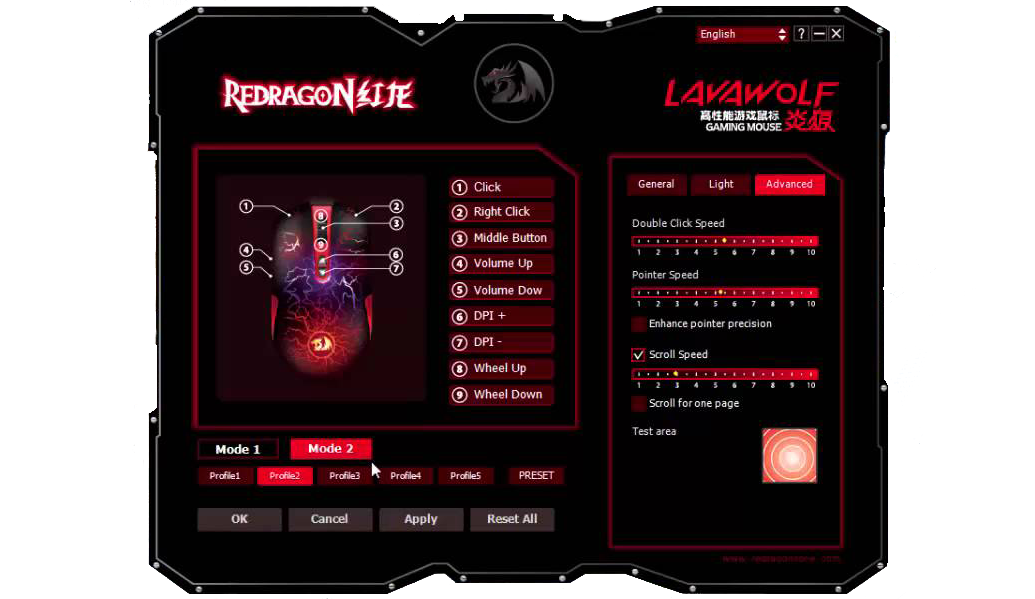 The user friendly interface enables players to control logo lighting and two back lights, but more importantly the DPI switch which can cycle through 5 DPI speeds in a fraction of the time. The side button can be assigned and programmed with a macro and used as a complicated keystroke. If you are kind of person who does not like software and prefers straight in-game experience, you can adjust your settings when you setup the M601, then save preferred setting and system will automatically tweak your settings every time you start the computer, even without running the software. So if you decide to try it yourself you can download drivers directly from our website.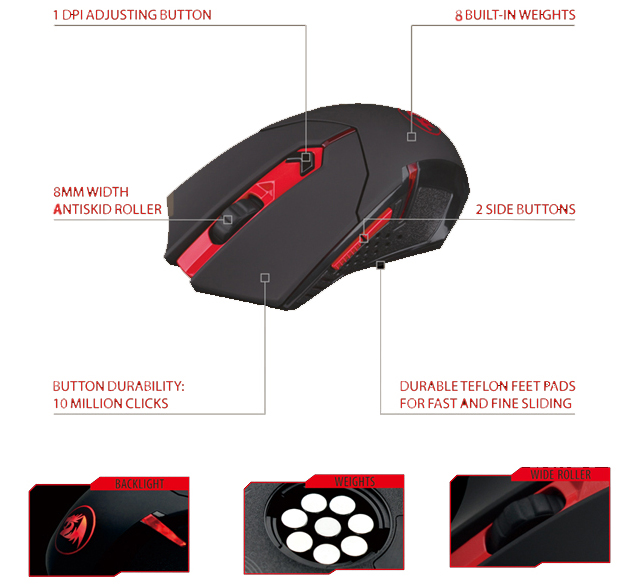 A vision of simplicity is also notable when it comes to compatibility options. This mouse can be used on all operating systems including windows, Mac and Linux. As I previously mentioned, performance is top notch and Centrophoru is worth buying if you are on budget.
Verdict
In my opinion this is a really great product for its price point, trust me $14 is quite unbeatable for a mice that looks this great, has custom weight system, 6 programmable button and LED lighting. I have been using this redragon m601 for two weeks and have found that it's extremely comfortable not only for gaming but also for everyday use. Until now I was using Razer DeathAdder as my primary mice, but I found ReDragon way comfortable due its DPI switch, as i also work on 3D AutoCAD I need to change DPI settings every time I switch between programs, that is why M601 is extremely comfortable. The sensor seems to work great, as well as the red backlighting that illuminates all the important parts.
The adjustable weights is something I really like as well as the DPI switch, that can instantly cycle through 1000 to 2000 DPI taking you from fast twitch to pinpoint accuracy. Click response time is reduced to milliseconds, due to 1.1 USB cable and optical sensor, so all this features make Centrophorus competition level device that is engineered only for peak performance.
I recommend getting this mouse if you want to save up, because there are really many mice out there, that are too expensive and I think it's really worth at the moment. For more information you can visit their site and found out more about RedRagon, because they also produce other gaming hardware that can be paired with your M601 mouse.