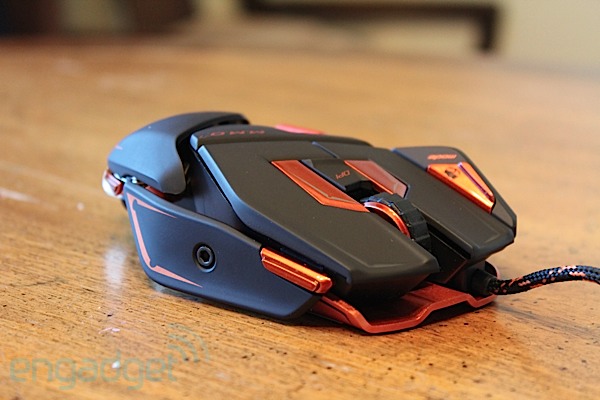 When I first lade eyes on Mad Catz Cyborg M.M.O 7, I was convinced that this mouse was something taken out from transformers movies . As I start using this mouse my thoughts about mmo gaming mice has completely changed, so in this topic I want to give your detail description of new cyborg rat 7 mmo gaming mice which can Give you ultimate weapon for mmo games like : WoW, EVE, The Lord of the Rings Online, Star Wars: The Old Republic, Guild Wars, or RIFT. Mad Catz' Cyborg RAT series mouse are always different and special , and can always give you advantage of comfort gameplay level , because this mice is fully customizable ,plus you can go into the software and really dive into dpi settings.
The first thing we noticed about the M.M.O. 7 were its bright orange highlights — with the exception of the standard left and right clickers, a dpi switch and scroll wheel. Also this mouse comes with nice metal case where you can store your accessories and all the part of your mouse. The case itself got black, soft finish, but the most important thing is what we got there . The new cyborg rat 7 mmo gaming mice comes with 3 Pinkie Grips and 3 Palm Rests as well as weight cartridge, all this things have orange accents. This things really helps the gamer to perfect their grip and easily adapt the mouse.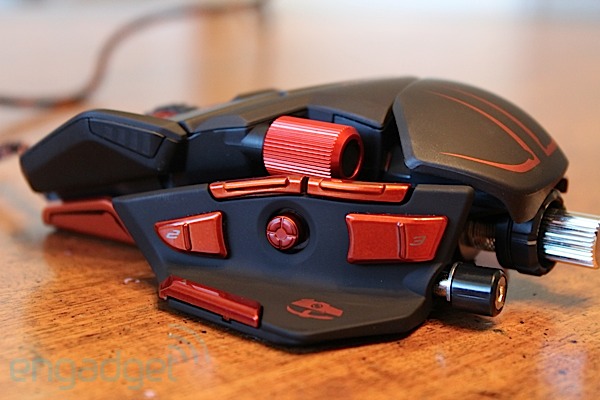 The bright color almost acts as a "what's new" indicator, drawing attention to the seven new inputs available on the mouse's thumb rest. Here you'll find a familiar round nub that was once the RAT 7's precision aim toggle — the Mad Catz Rat 7's new five-directional rocker still does the "sniper button" trick, but it also offers four more inputs over its predecessor, this button this really helpful if you are playing game in sniper mode. For example in call of duty, if you pull up your sniper you can press this buttons and it will slow down your dpi to give you, more precise control and precise movement to find your target and get a perfect had shoot . Unique 5D Button Enables 5 Commands with a Single Control, it means that by moving this buttons up and down, left and right, and press in you get another opportunity to get what you really want from this mouse. Combined with the legacy buttons on the rest's top lip, these additions give a thumb access to ten toggles at any given time. A pair of ActionLock buttons hug either side of the mouse's horizontal scroll wheel, each toggling a constant input of their respective clicker when activated — as well as a mode indicating LED color change on each button's edge.
The new cyborg rat 7 m.m.o gaming is special with it's new true 6400 DPI 'Twin-Eye' Laser Sensor combining 4 Custom Settings. The Cyborg M.M.O. 7 Gaming Mouse's new-generation 'twin-eye' laser sensor reads each axis separately and tracks up to a stunning 6 meters per second with pinpoint accuracy. Pro gamers who prefer low sensitivity with high movement speed will always experience correct tracking and precision. Four user-definable DPI settings range from 25 to 6400 and the DPI button lets you easily cycle through your custom settings. This mouse also gives you opportunity to make this mice heavy or light by adding Five 6-gram weights which could be stored as I have already mentioned in the supplied Weight Storage Container.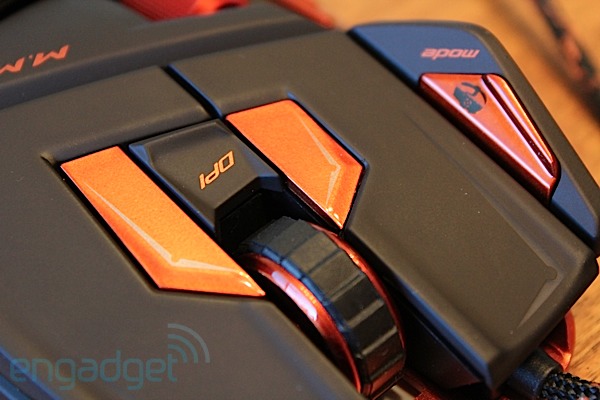 This mouse is really feature full, but for me as gamer the most important was brand new World of Warcraft Plug-in, which enables you to drag and drop spells, inventory items and macros directly to the buttons of the mouse. New left and right mouse button lighting is just phenomenal, where you have 16 million RGB backlight color choose form color set.
The M.M.O. 7 holds the distinction of being the most different of the Cyborg mice. With it's 78 Programmable Commands, brand new plug-ins and accessories cyborg steel remains the best gaming mice in all gaming stile . It just leaves only one question: is it worth the premium price? At $130, it's no snap decision — but let's put it another way, hardcore gamer. How much have you spent on World of Warcraft over the last seven years? That's what we thought. Enjoy your new mouse.
.DPI range – 25-6400dpi (in 25dpi steps)
.Acceleration – 50G
.Polling Rate -Dynamic up to 1000Hz
.Tracking Speed – Up to 6m/sec
.Always On
.PTFE "Slick" Feet
.Gold plated connector
.Braided USB cable
.L.E.D. colors for each mode
System Requirements: Connectivity: USB 2.0

ALSO AVAILABLE IN THE RANGE