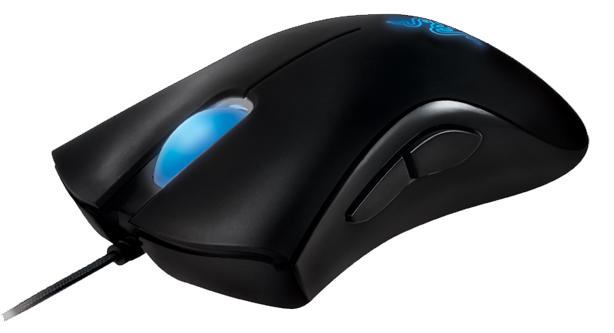 Nowadays  gaming mouse brands on the market are trying to develop the mouse which can really change your minds about real gaming mice, and in this case Razer  Deathadder  has made it. Not only it has been an absolute winner in numerous Mouse score competitions, but also it has many raving gamers all over the world .This mouse really gives a PC gamer all he needs – a wired mouse that has really high resolution that can not be beaten by any wireless gaming mouse, an awesome game playing experience and very high speed reactions to even very challenging  games.
On top of that, Razer  really made a great looking body for this infrared gaming mouse. Basically they made the left and right click buttons a smooth continuous part of the mouse rather than two separate buttons at the middle we gut scroll wheel which looks really nice notably with the blue lighting, on the left side of the mouse we got extra buttons which could be programed and used in gameplay as you wish.  Another great  thing that you  will find is Razer logo on your mouse which is highlighted as well with blue led, so in all this parts make this mouse really special.
Also you will notice that the buttons are slightly curved up, so when you want to click, you will click much faster which in turn will improve overall game play on your computer. As this mouse has ergonomic design when you rest your hand on the mouse, you will not feel any stress on your wrist and fingers. With it's 3500dpi Precision 3.5G infrared sensor  you are  4x more precision than on a standard 800dpi mouse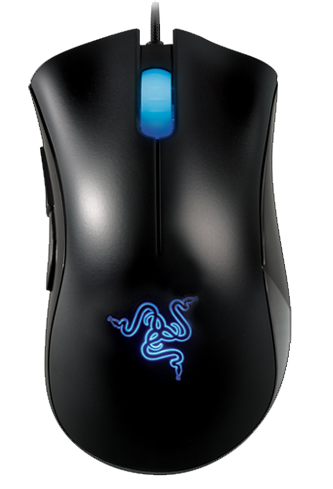 Now you can be assured that this piece of equipment works really well, but many people report that they have a challenge with the installation. If that happens to you, all you need to go online and find the correct driver and install that first on your computer. Then hit the restart button and now you should be able to get the Razer DeathAdder 3G mouse working as well.
Overall this is one of the best USB wired mouse you can actually get your hands on. But there is one down side to it. As soon as you start playing your games with this mouse, you will never be happy with any wireless gaming mouse. And that is guaranteed!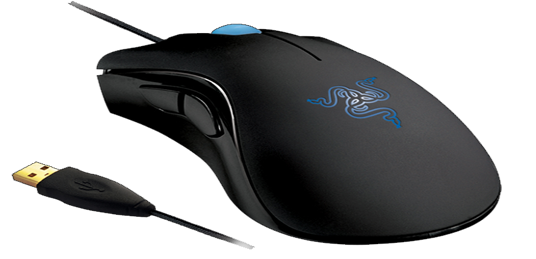 Technical Specifications
.3500dpi Razer Precision 3.5G infrared sensor
.Ergonomic right-handed design
.1000Hz Ultrapolling / 1ms response
.Five independently programmable Hyperesponse buttons
.On-The-Fly Sensitivity adjustment
.Always-On mode
.Ultra-large non-slip buttons
.16-bit ultra-wide data path
.60–120 inches per second and 15g of acceleration
.Zero-acoustic Ultraslick mouse feet
.Gold-plated USB connector
.Seven-Foot, lightweight, braided fiber cable
.Approximate Size : 127 mm / 5.00" (Length) x 70 mm / 2.76" (Width) x 44 mm / 1.73" (Height)
.Approximate Weight: 148 g / 0.33 lbs
System Requirements
.PC / Mac with USB port
.Windows® 7 / Windows Vista® / Windows® XP or Mac OS X (v10.4 and above)
.Internet connection (for driver installation)
.At least 35MB of hard disk space