Razer is the leading company in cutting edge PC Gaming peripherals, no Hardcore Gamer will ever play a PC Game without a Razer product. The reason why so many people choose this company is that Razer makes most accurate, high precision, good looking mouse and Razer Ouroboros Elite Ambidextrous mouse is their new invention. First thing that comes to my mind when i hear Ouroboros, is something mystical and mythological at the same time . For most people it is strangest word they have ever heard, and most of them can't even pronounce it properly. The Ouroboros is an ancient symbol depicting a serpent or dragon eating its own tail. The ouroboros often symbolizes self-reflexivity or cyclicality, especially in the sense of something constantly re-creating itself, such as the phoenix.

Like a transformer of a mouse, you can change everything, there is no limitation while customizing the mouse. First let's talk about the design. The Razer Ouroboros is crafted really well in terms of materials they have used, it feels really good. When I hold it in my hands it looks and feels like you are piloting a machine built for deadly speed and has lovely green soul waiting to be unleashed with all 8200dpi's being put to work. Many of you must have noticed that this mouse looks similar to the Mad Catz in design, but from my point of view it feels way better than Mad Catz and also has much solid design. In terms of ergonomics this mice is incredible, way it feels in your hand is just amazing. The texture looks like a soft rubberized coating, but it is actually textured plastic so it is easier to clean.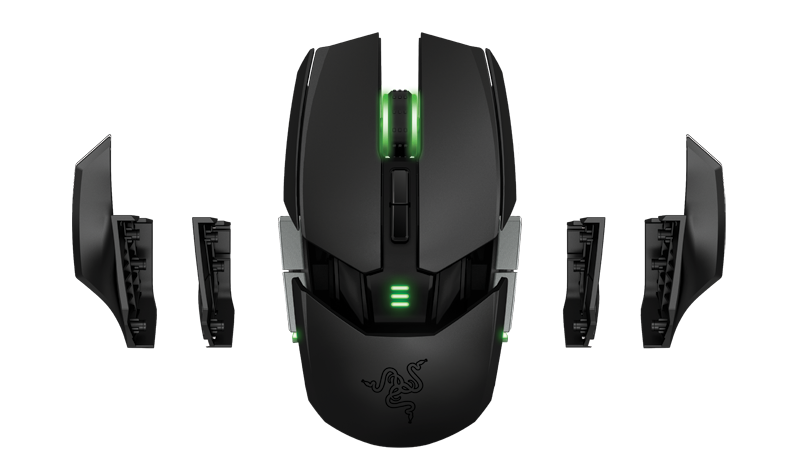 As I have already mentioned Razer Ouroboros is fully customizable, it has a modular design that offers all sorts of physical adjustment and customization. For better experience this mouse offer further customizations for a more personalized level of comfort. Such as interchangeable side panels, adjustable palm rest and thumb grip. Interchangeable side panel allow you to get the right hand fit with you Razer Ouroboros, the way this panels are attached is magnets and I love this new feature. There is no need of using extra tools for attaching new panels, this magnets are really useful. In normal packaging you get two thumb grip panels and two finger rest panels you can tweak the grip and shape of the mouse to your liking. At first I thought that this magnetic panels would cause difficulties after months of use, but now I can definitely tell you that this modules are extra durable. The side panels are attached with powerful magnets latches, so there is no problem at all. Moreover sometimes it requires two hands and a screwdriver to properly adjust it. The only thing that seemed to be missing is custom weight system, even though it is well balanced there is a need to add some weight, because nowadays many high-end gaming mouse offer custom weight system to fully adjust the weight and balance the mouse. Personally I like lighter mouse since it takes less force to move it around the mat, but on the other hand this mouse is light even with a AA battery. I would say it again that mouse itself is well balanced but still there is something missing.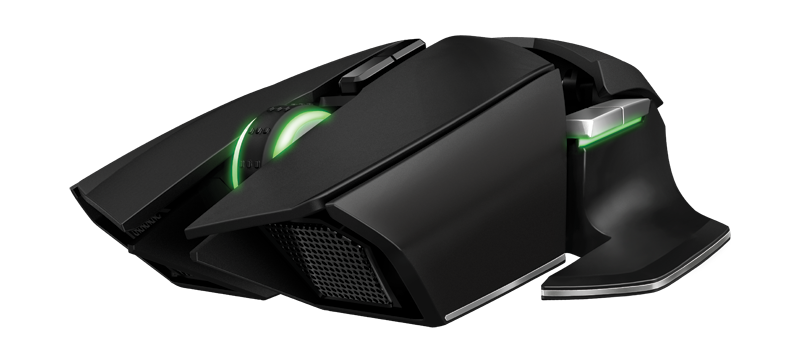 The extra programmable buttons come in handy, they are really well placed and easily accessible. The Synapse customizing software is also great, especially Synapse 2.0. There you can manually change purpose of each button and use them for your needs. Ouroboros also offers a feature called DPI clutch, what it does is that if you unlocked it, the whole side panel become a button to lower your DPI. To be honest it require a lot of pressure to activate it, so I occasionally press the two side button on the other side of the mouse by accident. This is personal to many it might be helpful, but not for me.    

Charging dock is another great feature of this mouse, it looks nice and takes very little place on the table. The whole point of having a wireless mouse is because it is really portable, this mouse also comes with USB cable in case if your mouse is running on low power or you don't have time for charging it. You can simply plugin USB cable and continue doing your work. Finally I want to talk about tracking sensor, for me Razer's sensor is one of the best sensors on the gaming market. Maybe it's because I have been using Razer DeathAdder for quite a long time, but despite all this things this 8200DPI laser sensor is unique and delivers highest performance. This particular sensor also features two special functions to give gamers even more control over their mouse. 1) Surface calibration – is used for detecting the specific surface, what color it is, the topography and other such properties. After analyzing those properties software configures the mouse for specific surface, in order to deliver highest performance depending on material on which it is used on. 2) Cut-Off customization – in a Razer mice, once the sensor is calibrates to the surface, you can manually customize the height at which tracking is cut-off when the mouse is lifted. This feature is extremely handy for gamers who perform tricks, which require mouse lifting. While doing this, some mice may cause on-screen cursor jitter as mouse to surface tracking continues. Now you don't have to worry about this issue, just calibrate your mouse and then customize the height at which tracking is cut off and you are ready to go.
The Razer Ouroboros earns my highest recommendation, even though it is a bit overpriced (US$149.99 ) but I just fell in love with it so I feel like it's worth the money. I will have to use it more to see how durable it is, but for now I have seen quite a few negative side of this mouse. If you have some money, I highly recommend recommend buying one.