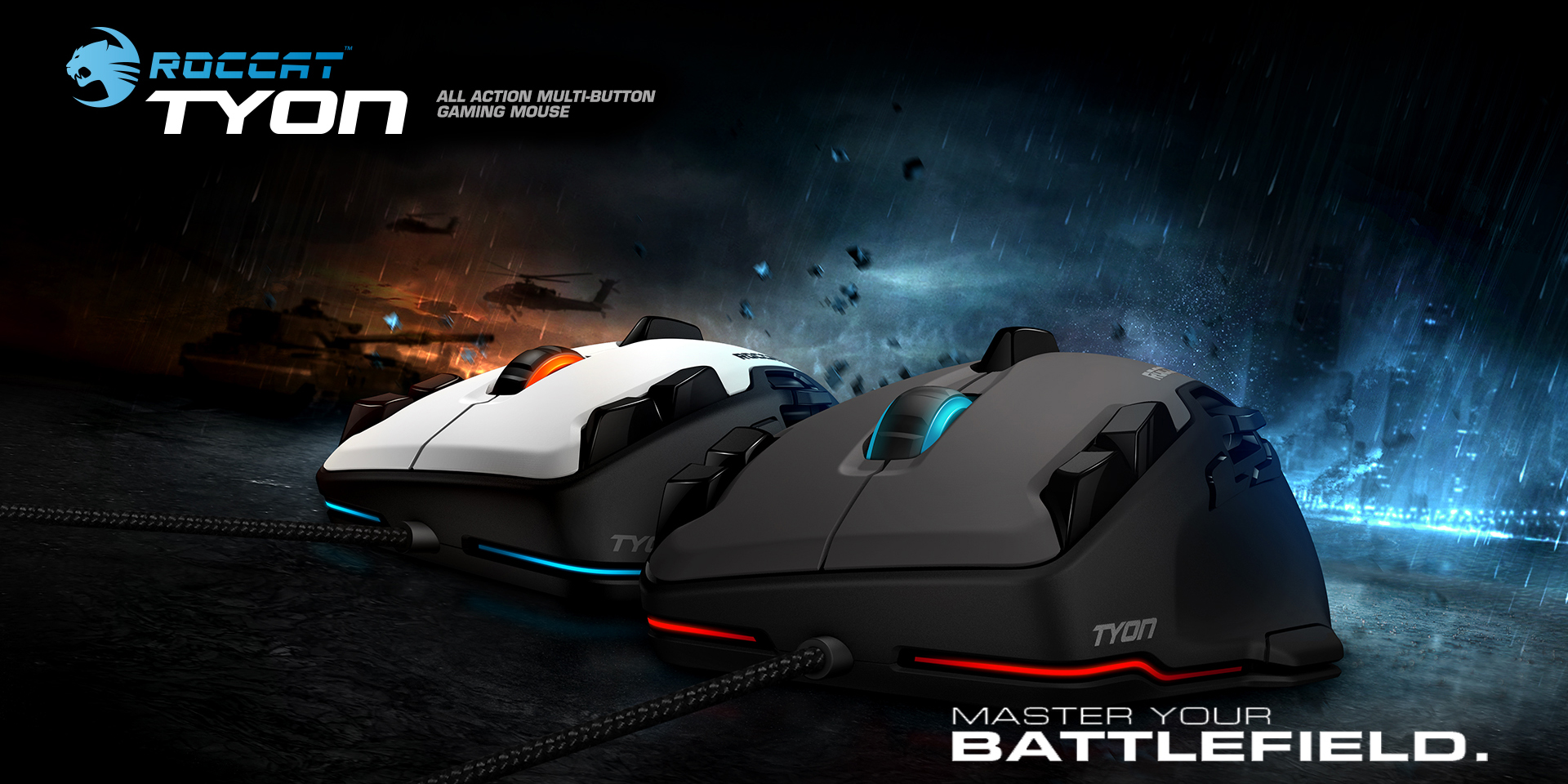 Gaming peripherals from Roccat have been slowly saturating the North America market. The company stands beyond the quality they design excellent products especially the gaming mice. So one of their latest gaming mice is Roccat Tyon, well placed and competitive mouse that will for sure track lot of attention despite the 99$ price tag. This is a pretty cool new mouse on the market for one main reason and that is because it's compatible for both MMO and FPS games. All the buttons on Roccat Tyon are placed on strategic places in order to give players unrivaled power while gaming. So now let's take a look at form first, everything from the extremely comfortable thumb rest to the slight curve on the right side and the appropriate height of the Tyon are all indicators that Roccat knows what they are doing within this category. Ergonomics are well executed with the solid structure at 126 grams, this seems to be the perfect balance between offering a comfortable handling experience, regardless if you are coming from much lighter or a heavier mouse.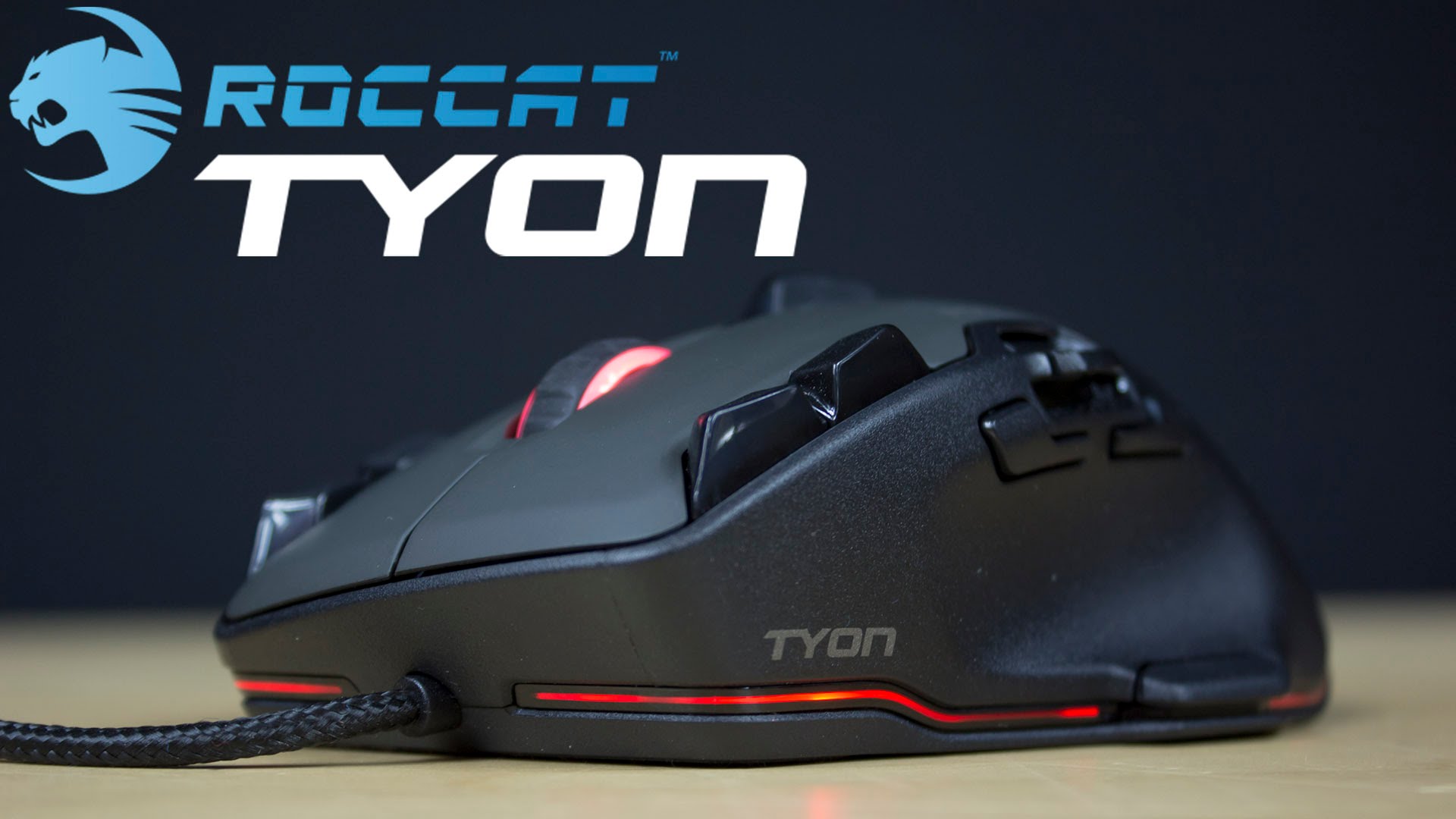 The button layout and execution is also impressive, all the usual buttons have great actuations. Primary left and right clicks travel easy enough, but do not allow accidental presses. The scroll wheel is by far the best I have tried, with really indicative scroll steps which I love most, plus light enough to be pressed without disturbing your grip or aim during game. The two extra buttons beside your point finger are easy to reach and the angular shape helps you to find those buttons quickly and naturally, while the ones on the opposite side of your middle finger do require some finger learning, but thanks to tall buttons they do become more natural to use with time.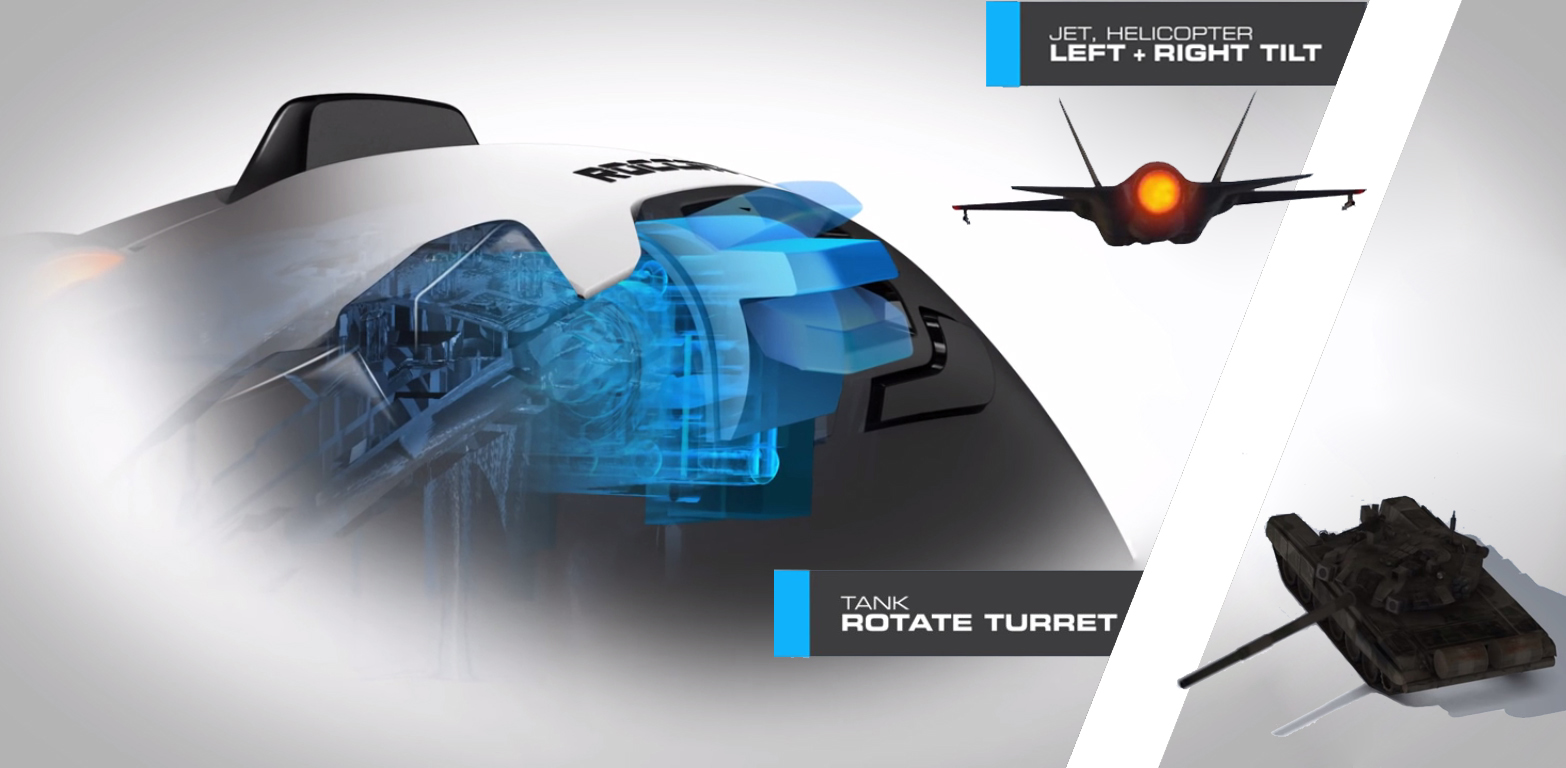 There are plenty of commands at your thumb and it's exactly this button layout, that will differentiate the Tyon and help to stand out among many other gaming mice. The usual browser buttons are fine with gentle click but soft feel, then we have a tilt button which is placed right above your thumb with smooth travel in either directions and return to the center when released. The analog thumb pedal was specifically designed to adapt the changes of modern shooter games. It helps you to control the various vehicles that you face in first person footers (FPS), the single axis analog thumb paddle allows you to tilt your jet or helicopter left or right, increase or decrease the throttle and much more. With Tyon's X-Celerator you will never need to switch between main peripherals and Joystic again.
The Tyon is the first ROCCAT mouse armed with the ingenious Dorsal Fin-Switch, witch is behind the scroll wheel, controlled by middle or point fingers. With Fin-Switch you can toggle through your weapons, assign macros or bind wherever you fill most comfortable with. But for me, it was really out of the way for comfortable reach and was left unused most of the time.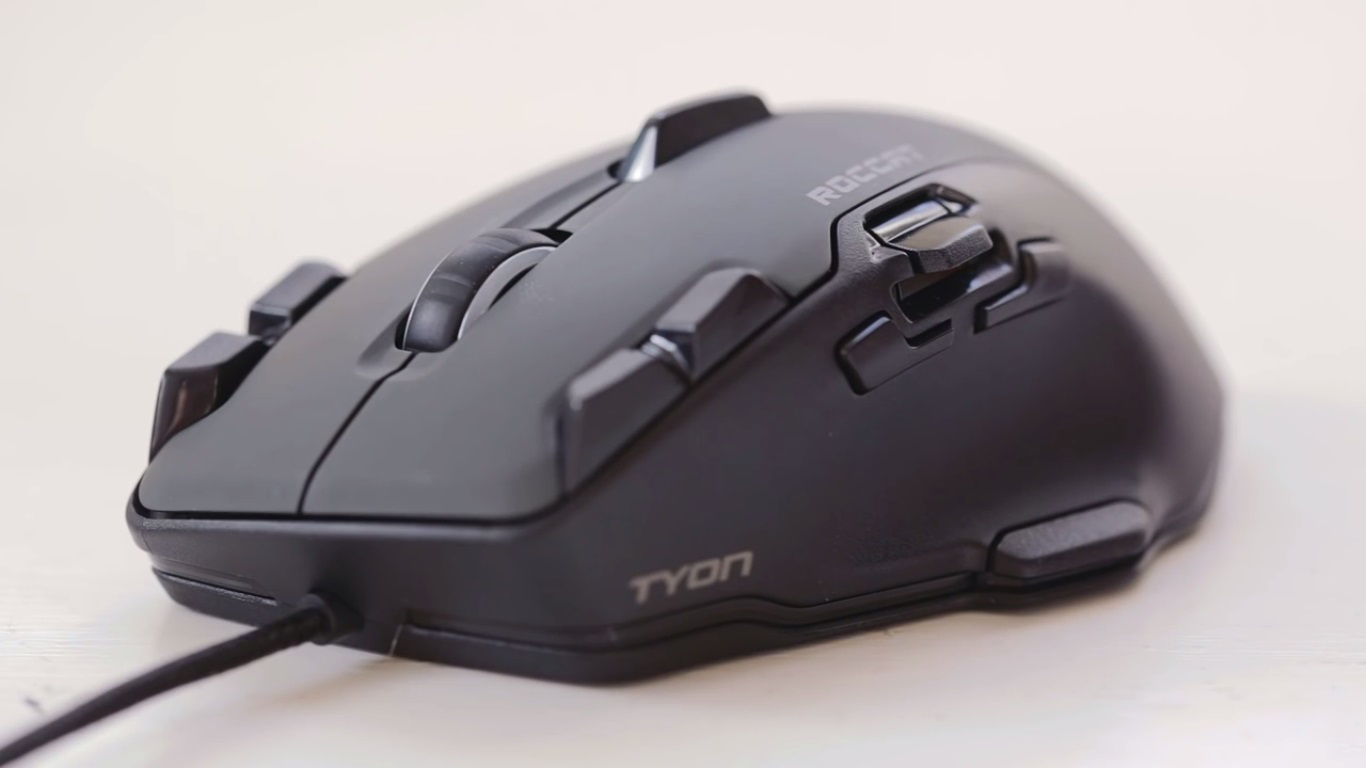 However one of the best button additions on Tyone is easy-shift button which is right underneath your thumb, it is kind of part of frame and part of curve to support the thumb but its low profile enough for easy reach. Easy-Shift is a pretty neat feature that helps you put way more commands and macros to your Roccat mouse. Playing your favorite game and not having enough buttons just sucks. Pressing the Easy-Shift button gives you access to secondary function for every mouse button, so no matter how many buttons your Roccat mouse has, you will always have double the amount, more than enough space for all of you commands and macros. This is especially cool if you have Roccat keyboard for extra awesome productivity. However, with some quick button mapping you could eliminate use of keyboard entirely for lot of functions, both for gaming and productivity and this is exactly how button remapping should work.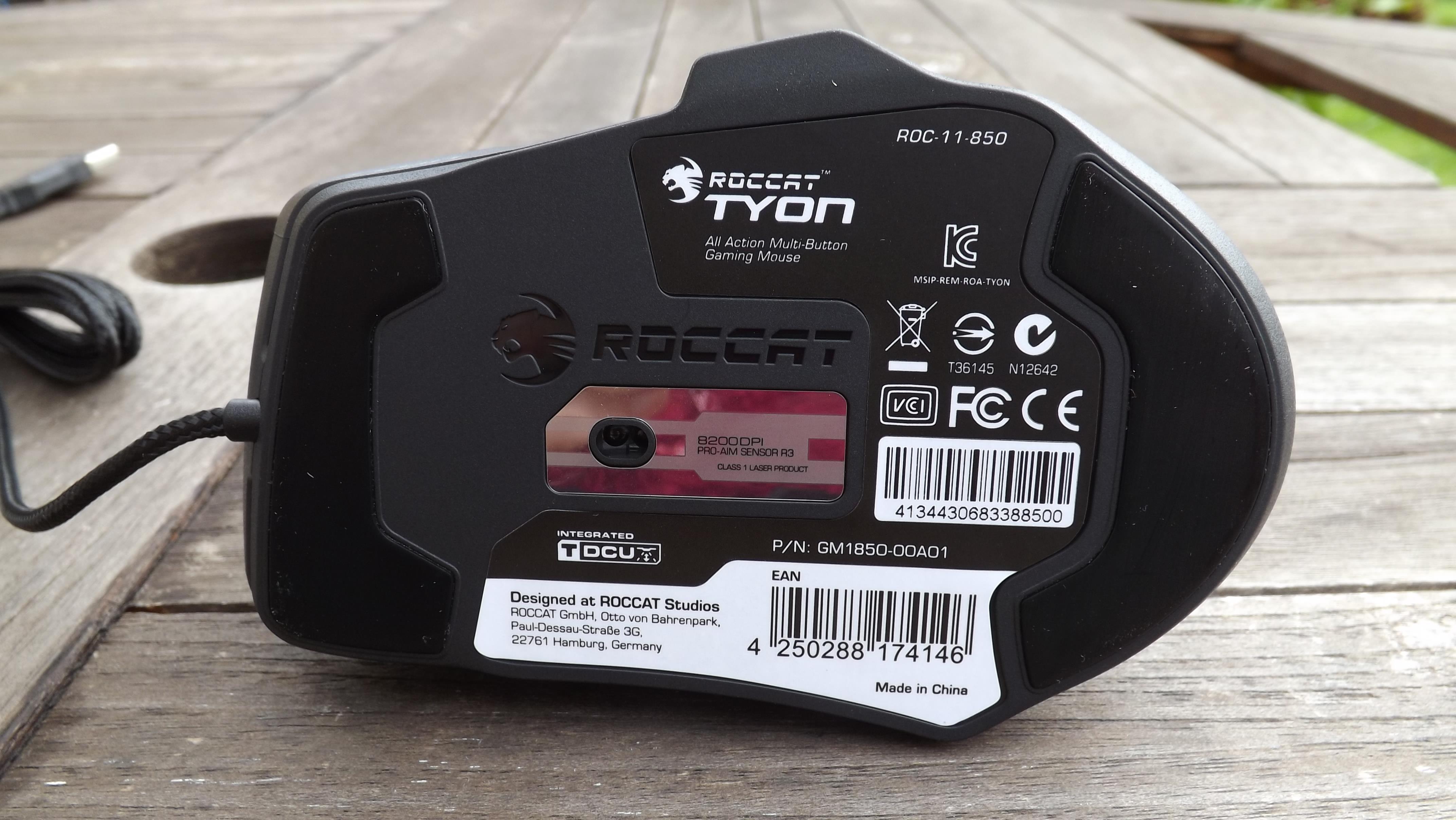 Roccat Tyon is the laser mouse, which has 8200DPI PRO-AIM sensor R3, while tracking performance was pleasing I do still prefer an optical alternative like my Mad Catz R.A.T. PRO X Ultimate Gaming Mouse that I have really gotten accustomed to. But still smooth tracking is possible throughout the entire DPI range and I had absolutely no problems with aim neither in game nor while editing. The trick here for laser mice is to decrease sensitivity and increase the DPI for precision and accuracy.
The lighting additions on Tyon are actually quiet cool, single continues LED strip covering the bottom rim, illuminating the surface underneath along with scroll wheel. The lighting is vibrant and bright with the choice of 16.8 million colors, but most importantly it is color accuracy, if you set blue lighting it will be blue and not some weird bluish color. You can set any temper of effect you wish for, from low breathing effects to fast color shifting, plus an extra cherry for those with Alienware machines. Roccat recently announced collaboration with Alienware to incorporate Alienware effects to work with Roccat peripherals.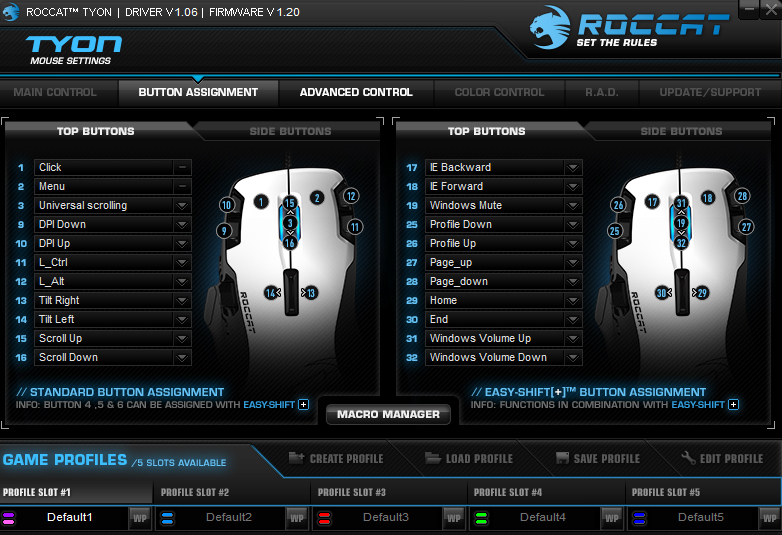 Moving on to Software, it is very well designed with so much control to your finger tips: sensitivity, scroll speed, horizontal tilt speed , DPI sensitivity , double click speed. Easy to understand button mapping, with top to down view and side view, for standard button assignments and also easy-shift button mapping. Macro manager is also available with preloaded most used actions on some applications like; adobe Photoshop, Microsoft office and for some big game titles, so you can create your own custom macros without any problems for specific games. Now under the advances control we have lift off distance this is really important, and surface calibration for the sensor, polling rate and sound feedback. Another great feature inside the driver is achievements display, which is fun and useful application that tracks your mouse data. Do you want to know: how many meters you have moved your mouse in intense battles? Or how many times you have clicked the standard right button? The R.A.D does not only tell you but also allows you to share your achievements on social media platforms, and this feature also works with your Roccat keyboard. So be sure to stroke those buttons!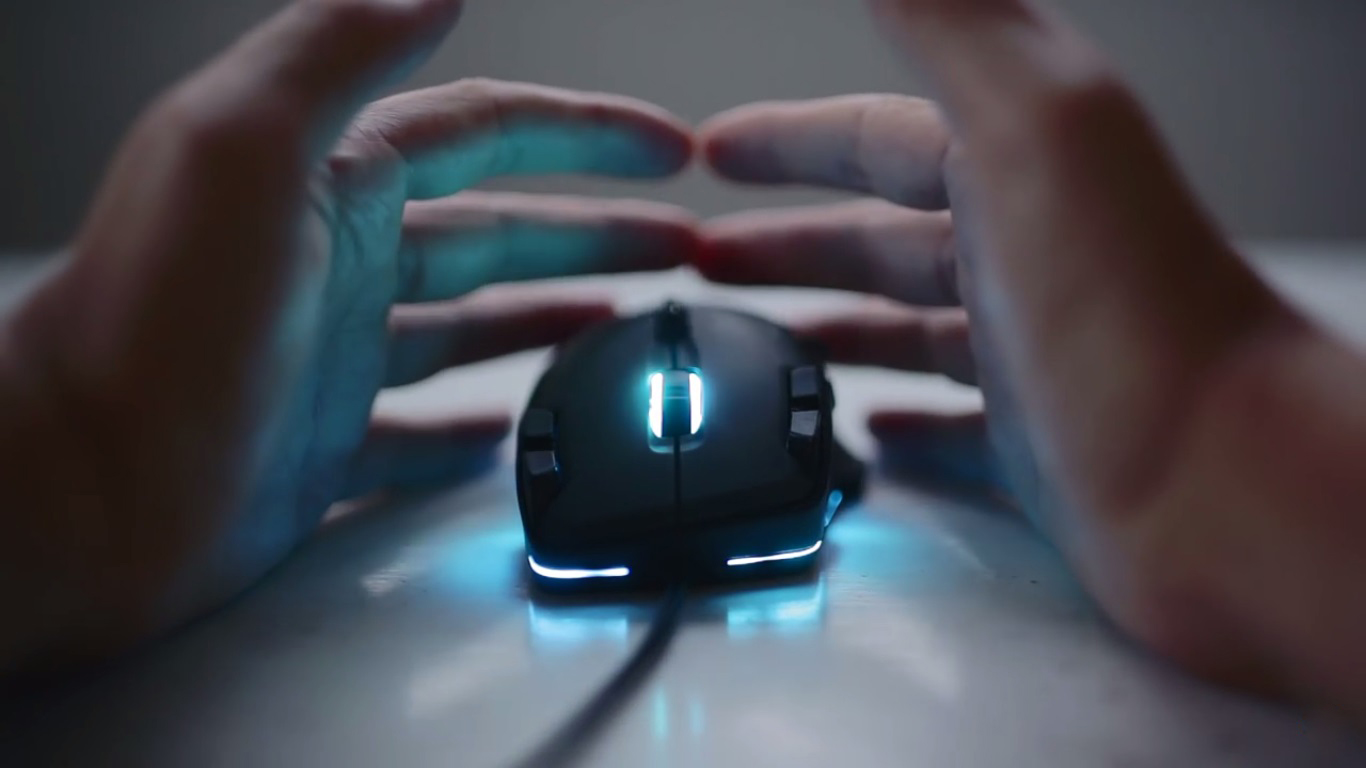 The color control as mentioned before gives you pure LED lighting per zone with various lighting effects and all that is saved on per profile on the mouse, thanks to build in memory requiring no software installation if you move between computers. So this is the most comprehensive driver software you can find for a gaming mouse.
To sum up Roccat Tyon is one attractive gaming mouse for an extremely comfortable handling experience, with lot of programmable buttons along with easy-shift [+] that doubles the functionality of each button for any gaming or productivity purposes with excellent actuations and strategic button placement. We also have the best scroll wheel on the mouse, the laser sensor, RGBA lighting illumination system and also intuitive software to pack it all up for a really awesome gaming mouse. Now, there is not particularly anything wrong with Tyon, but lack of optical option is disappointing considering how many gamers are now switching towards optical sensors including myself. And Fin-switch at the top of the mouse, behind the scroll wheel was not comfortable to use, plus I would love if the software driver will be expanded a little bit, so we will have less crammed UI. But despite all that, we strongly recommend The Roccat Tyon for all users on the market, because this mouse has everything a gamer needs.
Pros:
Great ergonomics and build quality
Fully programmable buttons
Easy shift [+] for secondary buttons commands
Excellent scroll wheel + laser sensor
Intuitive and comprehensive driver software
Cons:
No optical sensor
Fin key not comfortable to use
Driver UI slightly crammed