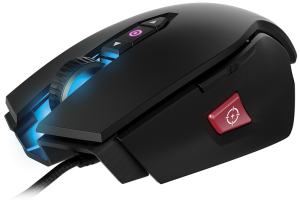 Corsair Vengeance M65 RGB is a brand new FPS style laser gaming mouse which is designed for performance gaming. Durable aluminum unibody, custom weight system, dedicated sniper button, customizable backlighting and top level dpi sensor makes this mouse just incredible while gaming.
So let's check out all the specs, which this mouse really stands off. First one is sniper button which allows the player to drop the dpi instantly, so you can have more fine control over the movement of your mouse. This is good for finest headshot montages to create stunning footage of your gameplay. M65 also comes with 8200 DPI sensor, to give you more precise tracking and highly accurate control over the mouse. As a Player you always have a chance to change dpi mode directly from mouse buttons or from the software. Control Panel for Corsair gaming mouse software is really responsive and easy to navigate. Everyone who owns corsair peripherals can simply download Second-Generation Control Panel and customize their mouse and even setup some profiles with different options, in order to make gaming experience funny and entertaining.

This mouse comes with three different colors: available in military green, white and black depending on your preferences. Surface of the mouse is very nice, you got soft touch finish along the top and some rough material on the sides, to help with grip. This texture is extra durable and with the aluminum unibody you got best combination. In the middle we got high-mass scroll wheel, with rubberized coding. This thicker scroll wheels are just more comfortable to scroll through. Bellow you got DPI indicator, up and down button which are highlighted with led light, to help the gamer to simply understand the DPI level. Three-zone backlighting system lets you choose from 16.8 million colors and enjoy not only the gameplay, but also create your own look and become unique with your gaming mouse.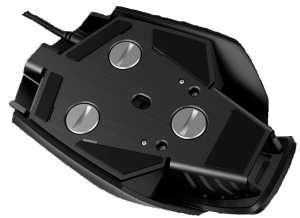 Another thing about corsair vengeance m65 RGB is weight system, which is quite unique. On the button you got three removable weight zones, so you can control where your weights are and how heavy your mouse actually is. That is definitely a big plus for gaming mouse, because this tweaks allow players to fully customize their mouse. This feature is mostly aimed for gamers, but in my opinion it's also a matter of personal preference. Some people like heavier mouse with extra weight, when others prefer completely different. The idea behind using extra weight is to help you keep from overshooting your motions.
To sum up corsair m65 is top level gaming mouse with great features and solid design, for people who appreciate technological changes and still love old school gaming mouse look.
Specs:
Laser Depth: 1.5 mm
DPI: 50 – 8,200
Size: 114 x 83 x 32 mm
Weight: 164 grams (Adjustable)
Connection: Wired
Grip Type: Palm/Claw
PROS
– Solid build for the price point
– Aluminum unibody design
– Grippy side grip
– LED indicators for DPI level
– High-mass scroll wheel
– Customizable Sniper Button
– Eight programmable buttons
– Three-zone backlighting
CONS
– May be too heavy for an FPS mouse ( Even with no weights )
– Not ambidextrous ( not for lefties )